Every 60-minute open or no-show appointment slot

costs a physician $200!

*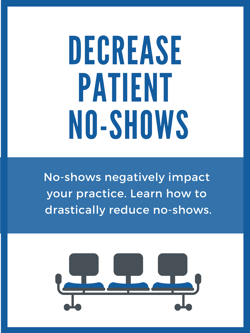 From lost time to lost revenue, missed appointments have become a burden to healthcare professionals and the healthcare revenue cycle. In fact, did you know that missed appointments cost the U.S. healthcare industry a whopping $150 billion each year? Plus, missed appointments can cost individual practices between $100 - $1,000, depending on the practice's location and specialty.

While it's unrealistic to think that your practice can eliminate no-shows completely, there are a few things that you can do to drastically reduce your no-shows.

To help you out, we created a list of six things that your practice can do to reduce no-shows. Fill out the form on this page to get the free list!

Impact Of Missed Appointments
Drains your practice's bottom line

Patients don't get the care they need

Your staff loses valuable time that could have been spent on another patients or other duties

Why Patients Miss Appointments
Costs - many patients don't understand the costs or believe that the costs are too high
Transportation issues - roughly 3.6 million Americans miss appointments each year due to some sort of transportation issue
Fear - most people simply fear going to the doctor
Time - other work, family and personal commitments often take precedence over personal health
Slips their minds - many patients just simply forget about appointments, resulting in a no-show

Overall, missed appointments disrupt continuity and they also compromise the quality of care for the patients who miss the appointments and for patients who would have been scheduled in those appointment time slots.

So, now that you have a better understanding of the impact missed appointments can have on your practice and why patients are missing appointments, it's time for you to take action. Come up with a game plan on how you can reduce the number of no-shows at your practice. Our no-show checklist can help you with that and provide you with guidance.
*Source: SCI Solutions Report


Something Powerful
Tell The Reader More
The headline and subheader tells us what you're offering, and the form header closes the deal. Over here you can explain why your offer is so great it's worth filling out a form for.
Remember:
Bullets are great
For spelling out benefits and
Turning visitors into leads.