We'll help your practice get

HUNDREDS

of positive reviews!

In today's digital age, patients are using online reviews to help them find and choose healthcare providers. In fact, did you know the following about patients?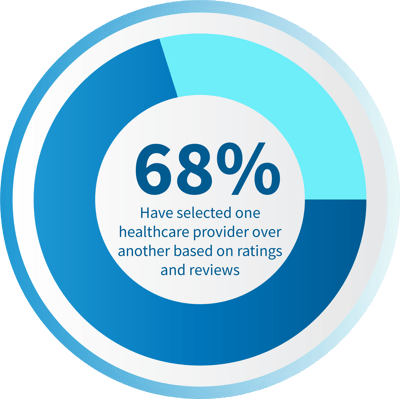 Whether you love or hate online reviews, the fact is:
They have a huge impact on the success of your practice

They have the ability to grow or sink your practice

They

have a major influence on whether or not a prospective patient chooses your practice



That's why it is important that you have both positive reviews AND a high number of reviews.


Power of positive reviews
Positive reviews can help you:
Attract more potential patients

Establish trust with potential patients

Increase your credibility with potential patients

Positive online reviews are crucial to the health and profitability of your practice - a

ccording to Yelp, businesses can see revenue jump as much as 10% with each additional star rating that they receive. Plus, the better your reviews are, the better your practice's image will be and the more likely you are to attract new patients.
Power of numerous reviews
One positive review isn't going to get the attention of potential patients. You need a good number of positive reviews to ensure that what potential patients see about your medical practice in their search results is appealing.

Also, positive reviews help your SEO. The more positive reviews that you get, the higher your search engine ranking will be. And the better your ranking, the more traffic your website will receive. And the more traffic you receive, the more patients and revenue your practice will gain. That's why it is important that you consistently collect positive reviews.


How DrCatalyst can help
When was the last time you checked online to see what people, especially your patients, are saying about your practice?

If you don't have many positive reviews about your medical practice, we can help. That's what our team is good at. In fact, we can help you triple your number of positive reviews in one month!

Here's how it works:
Our clinical nurses will call your patients and collect satisfaction surveys

We'll direct your happiest patients to write online reviews on Google & Yelp

We'll also schedule follow up appointments with your patients to fill up your calendar


Ready to boost your ratings and number of reviews? Fill out the form on this page and one of our online reputation specialists will contact you.
Something Powerful
Tell The Reader More
The headline and subheader tells us what you're offering, and the form header closes the deal. Over here you can explain why your offer is so great it's worth filling out a form for.
Remember:
Bullets are great
For spelling out benefits and
Turning visitors into leads.