FREE GUIDE:

How Much Are Medical Billing Mistakes Costing?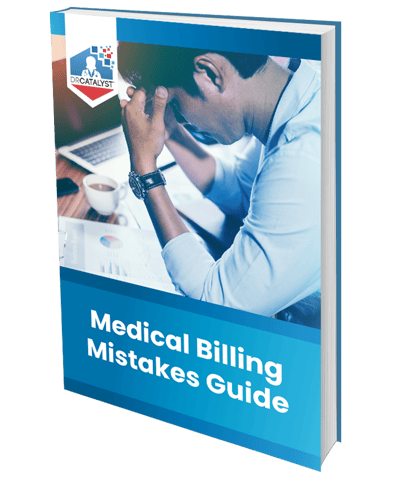 From duplicate billing to continuous billing errors, medical practices across the United States are experiencing major issues when it comes to billing. In fact, did you know that U.S. doctors leave approximately $125 billion on the table each year due to poor medical billing practices?
That's huge!
So, we came up with a guide that outlines the top billing mistakes and how much those mistakes could be costing your practice. Download our free guide to get the scoop on the top billing mistakes (and how much they are hurting your pocket).
And after reading the guide, if you need help avoiding some of the top billing mistakes, connect with our team of billing experts!


The Impact of Billing Mistakes
Let's face it, billing errors and mistakes happen. And it's no secret that medical billing is complex, tedious and a major headache.
However, in addition to causing several headaches each day, billing mistakes can also be a huge revenue drain. For example, a billing mistake could lead to underpaid or unpaid claims. And those unpaid claims could cost a medical practice to lose quite a bit of money.
Additionally, medical errors could trigger an audit or investigation. Or, in a more serious case, medical mistakes could lead to fraud charges. However, fraud charges would likely only be the case if mistakes repeatedly and intentionally happened.
And here's a big one - medical billing mistakes can also adversely affect your patients. How? Failure to bill correctly can impact a patient's treatment.


How Common Are Billing Mistakes?
The answer - more common than they should be. And professionals who work at a medical practice are in a busy environment where mistakes can and do happen. However, there are several common errors that occur at all practice (both large and small). And by simply recognizing those errors, you can save your practice a lot of time, money and resources.
Download our guide now and learn the most common billing mistakes that practices make.
Something Powerful
Tell The Reader More
The headline and subheader tells us what you're offering, and the form header closes the deal. Over here you can explain why your offer is so great it's worth filling out a form for.
Remember:
Bullets are great
For spelling out benefits and
Turning visitors into leads.