The Physician's Guide to
Responding to Online Reviews
(It's FREE!)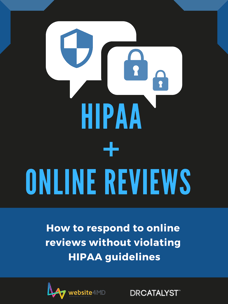 Physicians, are you struggling to respond to online reviews without breaking HIPAA guidelines? This guide was created with you in mind!

Our HIPAA-compliant guide will teach you:

The top three do's and dont's when responding to online reviews

How to write responses to reviews that are HIPAA compliant

Examples of HIPAA-compliant and non-compliant responses


Go ahead and fill out the form on this page to get instant access to the guide!


Patients Care About Online Reviews
Whether you like it or not, patients expect you to respond to the reviews they leave online. In fact, a recent study by BrightLocal uncovered that 30% of respondents look at review responses when judging a local business.


Responding to Reviews in a HIPAA-Compliant Way
Unfortunately for healthcare professionals, the Health Insurance Portability and Accountability Act (HIPAA) makes responding to online reviews more of a challenge. However, our HIPAA-compliance guide will provide you with guidance on how to respond to online reviews.
For starters, healthcare providers are not allowed to disclose the information of patients. And when it comes to online reviews, simply acknowledging that the person who wrote the review is/was a patient could get your and your practice is big trouble. Even if the reviewer specifically states that he or she is a patient of yours, you can't confirm that fact.


The Cost of Non-Compliant Responses to Reviews
If you post non-compliant responses, it could cost you a hefty fee (somewhere in the ballpark between between $100 - $50,000 per violation)!
There are a lot of things to keep in mind when it comes to responding to online reviews. However, our guide will provide you with the top dos and donts PLUS give you examples of how you could respond. Download the guide today!
Something Powerful
Tell The Reader More
The headline and subheader tells us what you're offering, and the form header closes the deal. Over here you can explain why your offer is so great it's worth filling out a form for.
Remember:
Bullets are great
For spelling out benefits and
Turning visitors into leads.